2022 Spring Special Exhibition "Keio Baseball and Modern Japan"
Exhibition Period: June 6, 2022 (Mon) – August 13, 2022 (Sat)  September 3rd, 2022
Keio History Museum's Special Exhibition, Keio Baseball and Modern Japan, was originally scheduled to conclude on August 13rd. However, due to an overwhelming response from visitors, it has been extended until September 3rd.
Unfortunately, some of the items initially on display are unable to be shown during this extension. Nonetheless,we hope to welcome many more visitors who missed the initial exhibition period, and to invite those who enjoyed the exhibition previously to visit again!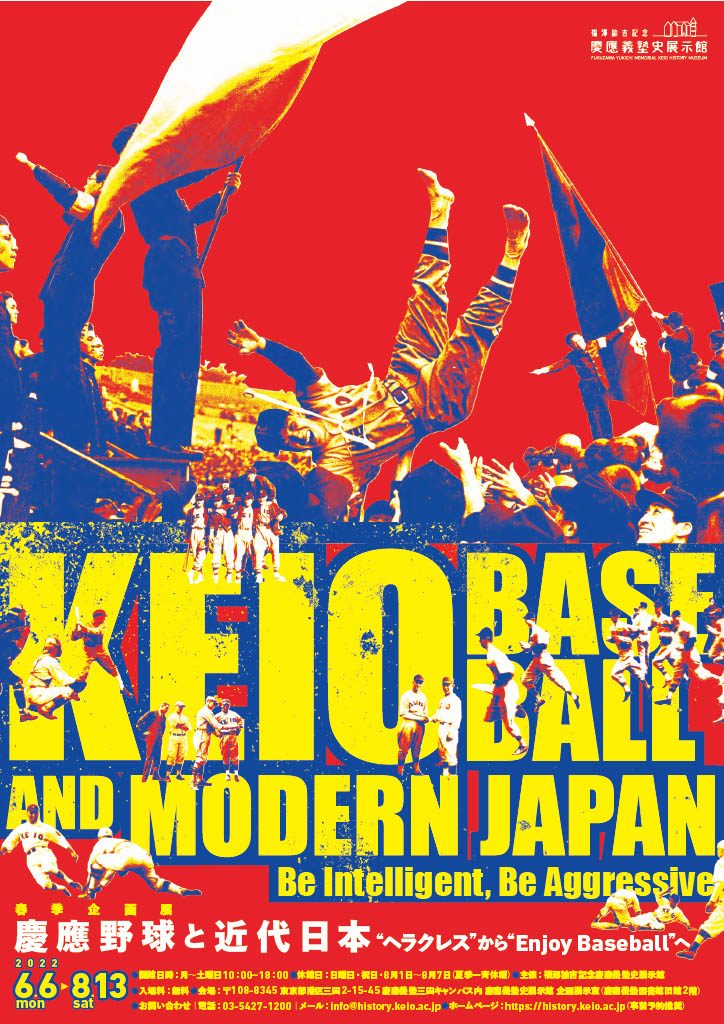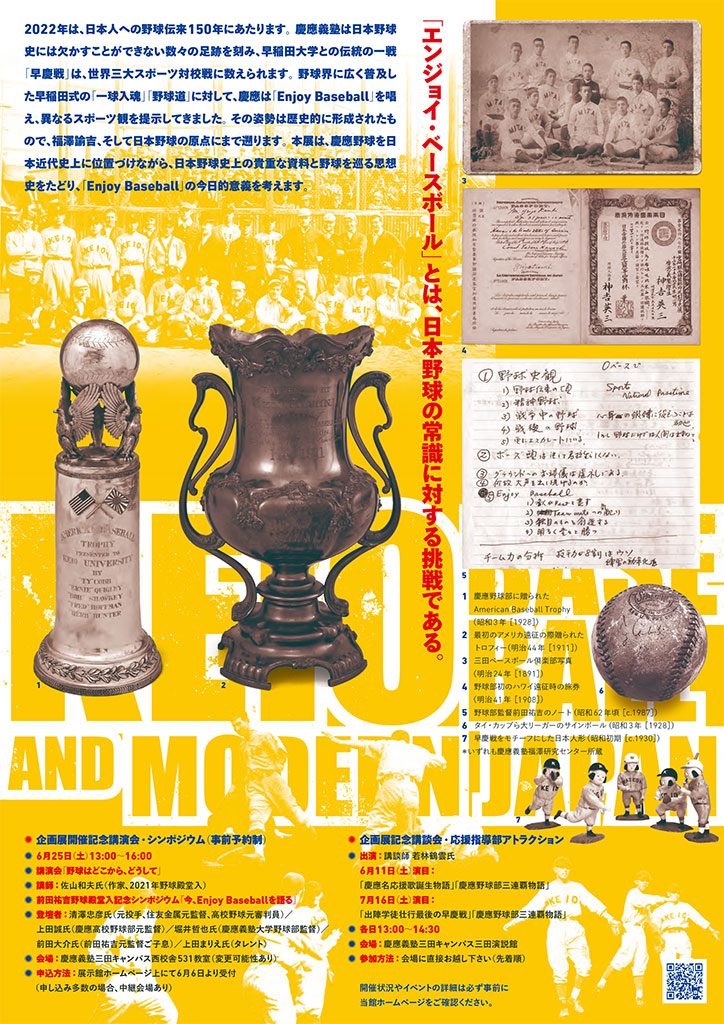 Purpose of the Exhibition: It has been 150 years since baseball was introduced to the Japanese people. In 2022, our special exhibition presents a number of historical items to guide the visitor in tracing the footsteps of baseball at Keio University. This exhibition is not, however, merely a retrospective of the major achievements and main players of the sport. It is instead a rediscovery of the educational philosophy and foundation of Keio University, as it created a stir amongst the norms of sports in modern Japan.
Organizer: Fukuzawa Yukichi Memorial Keio History Museum, Keio University

Major Artifacts to be Exhibited:
– Written challenge from Waseda University baseball team to Keio baseball team (1903)
– Notebook of Kanki Eizo, who received instruction from Tille Shafer of the New York Giants (1910)
– Signed ball by Ty Cobb, gifted to Keio team (1928)
– Flag associated with the "Apple Incident (Ringo-jiken)" (1933)
– Hinomaru (Japanese flag) with signature of members of the Keio baseball team (1943)
– Maeda Yukichi's notebook (circa 1985), etc.
Exhibition Period: June 6, 2022 (Mon) – August 13, 2022 (Sat) September 3rd, 2022
Venue: Fukuzawa Yukichi Memorial Keio History Museum, Keio University (Free admission)

Opening hours: 10:00 a.m.- 6:00 p.m.
Closed on Sundays, national holidays, and summer vacations (August 1-7)
■Exhibition Events
We will be holding several events related to our Spring Special Exhibition. The details are as follows.
We ask that all visitors to our events wear a mask.
We would appreciate it if guests could bring a pen or pencil, to complete a questionarie related to our exhibition events.
※Depending on the situation related to the Novel Coronavirus, there is the possibility that events will be cancelled.
Special Exhibition Commemorative Lecture/Symposium June 25th, 2022.
Lecture: "Where did Baseball Come From, and Why?"

Speaker: Mr. Sayama Kazuo (Non-fiction author, 2021 inductee of the Baseball Hall of Fame)

Symposium Commemorating Maeda Yukichi's Induction to the Baseball Hall of Fame: "Now, Say 'Enjoy Baseball'".

Speakers:
Mr. Kiyosawa Tadahiko (Former baseball pitcher, former head coach of the Sumitomo Kinzoku Baseball Club, and former referee for High School Baseball)
Mr. Ueda Makoto (Former head coach of the Keio High School Baseball Team)
Mr. Horii Tetsuya (Head coach of the Keio University Baseball Team)
Mr. Maeda Daisuke (Son of former head coach Maeda Yukichi)
Ms. Ueda Marie (Entertainment Personality and Television Announcer)
Venue: South School Building Hall, 5th Floor, Keio University Mita Campus South School Building
 ※The venue has changed from the first announcement. Please be sure to come to the South School Building Hall on the 5th floor.
Access via building ④ on the Keio University Campus Map
How to register: We will be accepting reservations on our homepage from June 6th, 9pm. (If availability is exceeded, we will also provide a live relay broadcast).
Please complete the reservation form once for each person attending.
Reservation period: June 6th, 9am to June 20th, 5pm.
Reservations will close once it has reached full capacity.
Click for the Special Lecture/Symposium
Reservation Form
※The Keio History Museum Exhibition Halls are expected to be crowded before and after the event. Admissions priority is given to those who have made a reservation to the exhibition halls. Please be aware that without a reservation, you may not be able to enter.
※Reservation for our exhibition halls can be found here.

Special Exhibition Dramatic Storytelling and Keio Cheer Group Performances
Speaker: Kōdan-shi (Professional Storyteller) Mr. Wakabayashi Kakuun.

Program for June 11th, 2022:
"How Keio's Fight Songs Were Born" and "The Keio University Baseball Club's Legendary Three Straight Victories"
Program for June 16th, 2022:
"A Send-off for the Student Soldiers: The Final Keio-Waseda Baseball Games" and "The Keio University Baseball Club's Legendary Three Straight Victories"
Time: 1pm-2:30pm
Venue: Keio University Mita Campus, Public Speaking Hall (Mita Enzetsu-kan)
Admission: No reservations required. Admission is on a first-come, first-serve basis. Please come straight to the venue.
If it is busy on the day of the performance, numbered tickets will be distributed from 12:30 at the Public Speaking Hall. Tickets will only be given to those standing in line. Please line up together with your friends and family to ensure entry.
The first 100 people will be admitted to the venue.