Second Collaboration with Traditional Storyteller Wakabayashi Kakuun and the Keio University Cheer Group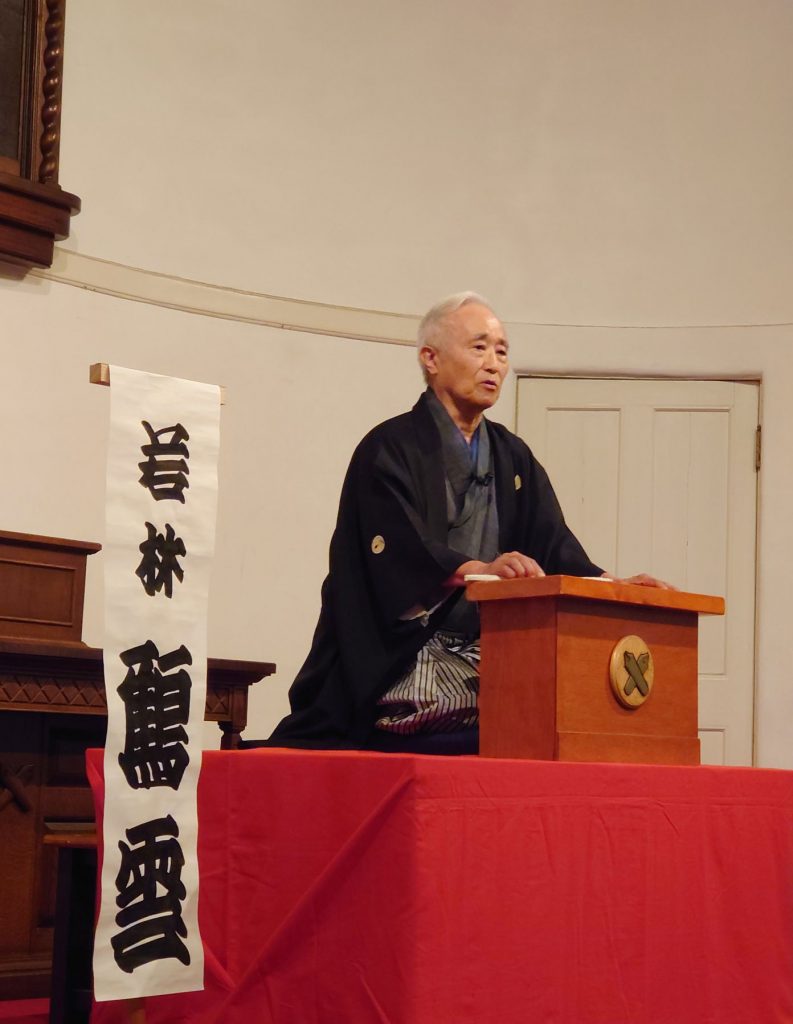 On Saturday July 16, at the Mita Public Speaking Hall (Enzetsukan), we held the second collaboration event between traditional storyteller Mr. Wakabayashi Kakuun, the Keio University Cheer Group, and our Special Exhibition Keio Baseball and Modern Japan.
It began with Mr. Wakabayashi, accompanied by the Keio Cheer Group, recounted the events of October 16, 1943, performing the story "A Send-off for the Student Soldiers: The Final Keio-Waseda Baseball Games."
In the Autumn of 1943, as the long-drawn-out War continued, a decision was made to revoke the order exempting students from the draft and to enlist those who became known as the 'student soldiers'. Calls rose from Keio's Baseball Team to hold one final Keio-Waseda Baseball Game before these enlisted students were to depart for the front. The Keio and Waseda Baseball Teams were in close contact, and worked together to overcome the difficulties in hosting the game. As the story's events culminated with the games long-awaited opening, Mr. Wakabayashi's performance rose to be equally passionate and full of emotion.
The game, held at Waseda's Totsuka Stadium, was a resounding loss for Keio. Even so, the game is remembered for the emotional events at its conclusion. Waseda began to sing Keio University's cheering song, "Wakaki-chi," and Keio responded with their own rendition of Waseda's "Miyako no Seihoku." Finally, voices from all around joined together to sing Umi Yukaba, filling the stadium with song. The loud chorus spread wide, and when it came time to part, students from the rival schools bid farewell in tears. This scene, too, was brought to life with the performance of the Keio Cheer Group accompanying Mr. Wakabayashi's storytelling.
Following this story Mr. Wakabayashi further accompanied by video footage, recounted the tale of "Keio University Baseball Team's Legendary Three Straight Victories", achieved for the first time in 1972.
After the storytelling was concluded, the Keio Cheer Group unveiled a rare performance of Keio University's first cheering song, "Ten wa Haretari." This song, as well as others performed on the day, were led through a chance pattern medley. Visitors joined in with paper megaphones provided for the occasion, and were for a short time awash with thoughts of baseball and its history at Mita's Public Speaking Hall.