Fukuzawa Yukichi Memorial Keio History Museum 2023 Spring Special Exhibition
"Sone & Chujo, Architects and Keio University Part I: Meiji and Taisho Era"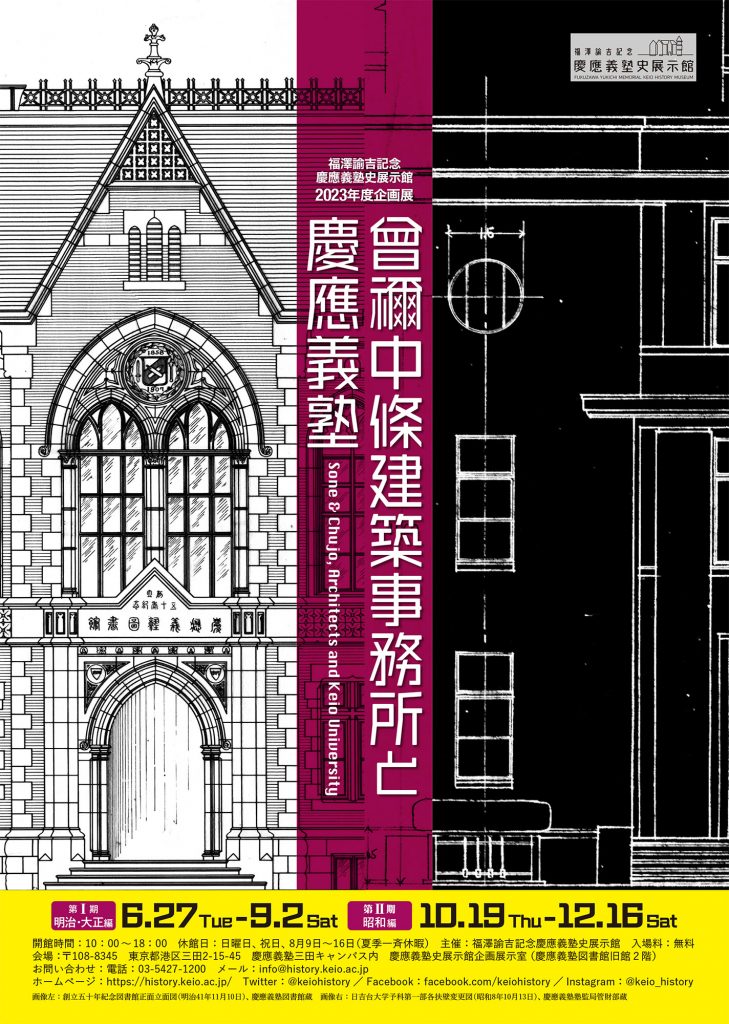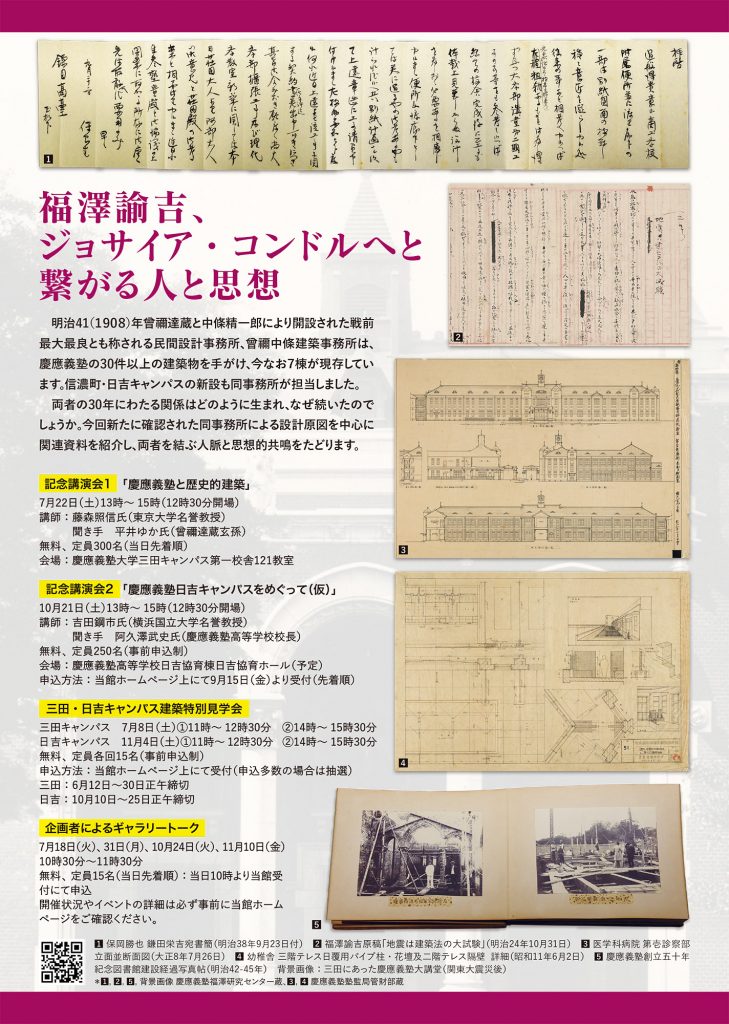 Figures and Ideas Linked to Fukuzawa Yukichi and Josiah Conder
The Sone & Chujo, Architects—a private architectural design firm established in 1908 by Sone Tatsuzo and Chujo Seiichiro, and regarded as one of the biggest and best private design firms before World War II—has worked on more than 30 buildings for Keio University, seven of which are still standing today. The firm was also responsible for designing the Shinanomachi and Hiyoshi campuses.
How did the Sone & Chujo, Architects and Keio's 30-year relationship come about, and what was the secret to its longevity? This exhibition features items that engage this question, focusing on newly discovered original designs and drawings, tracing the personal networks and ideological similarities that linked the two partners.
1. Basic overview
Dates: June 27(Tue.) – September 2(Sat.), 2023
Closed Sundays, Holidays, and August 9–16 for Summer Break
*The 2023 Fall Special Exhibition, "Sone & Chujo, Architects and Keio University Part II: Showa Era", is scheduled to be held from Thursday, October 19 to Saturday, December 16
Venue: Old University Library 2nd Floor, Temporary Exhibition Room, Keio History Museum
Open: 10:00–18:00
Admission: Open to all
Details: https://history.keio.ac.jp/en/
*The period the exhibition will be held may be subject to change according to the situation surrounding COVID-19 cases. Please check the exhibition's website for the latest information.
2. Exhibition structure (spring exhibition)
Fukuzawa Yukichi, Kanasugi Daigoro, and Fujimoto Jukichi
Josiah Conder and Sone Tatsuzo
Establishment of the office and construction of the library
Construction of the Auditorium and school buildings on Mita Campus
Construction of School Buildings and the hospital on Yotsuya (now Shinanomachi) Campus
3. Featured items
Fukuzawa Yukichi manuscript entitled "Earthquakes are a great test of building methods" (dated October 31, 1891)
Yasuoka Katsuya, letter to Kamata Eikichi(dated September 23, 1905)
University Hospital: Elevation and cross-section view drawing of first examination area (dated July 26, 1919)
Jukukan-kyoku (Keio Corporate Administration): Layout of foundation-reinforcing steel bars (dated July 20, 1925)
University Hospital, West Ward: Drawing of lighting fixtures (dated September 6, 1932)
Yochisha Elementary School Building: Detailed schematics of columns for awning installation and flower bed for the third floor, and terrace partition for the second floor(dated June 2, 1936)
(1 and 2 are from the Collection of the Fukuzawa Memorial Center for Modern Japanese Studies, and 3–6 are stored by the Office of Facilities and Property Management at the Keio Corporate Administration)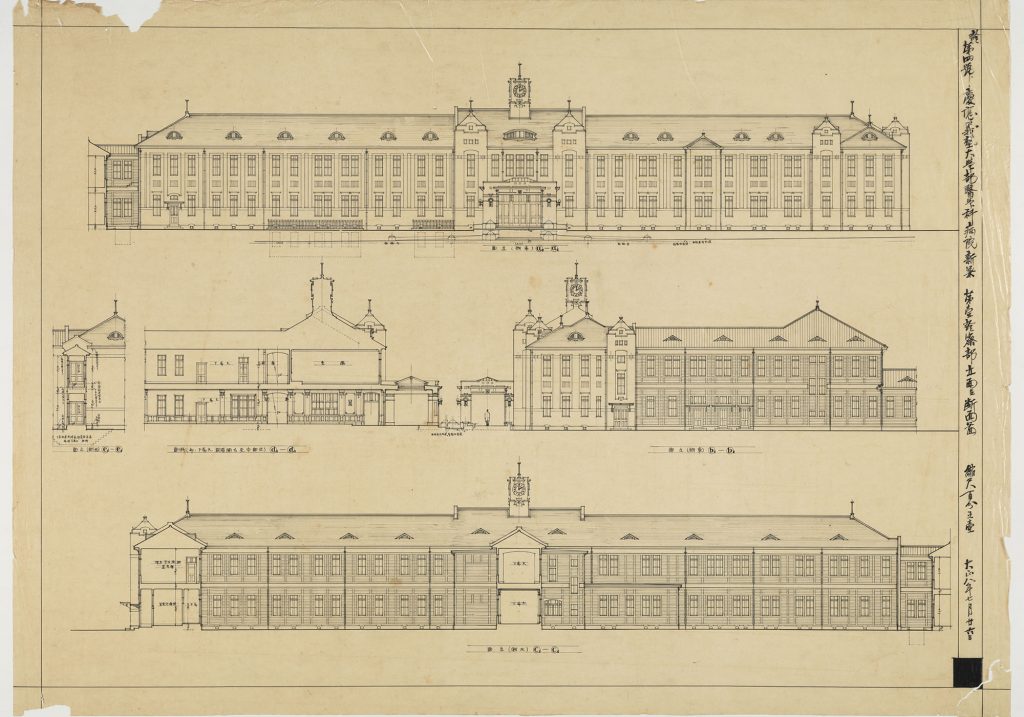 "Sone & Chujo, Architects and Keio University Part I: Meiji and Taisho Era"
List of Works
4. Related Events
i) Lecture: "Keio and Historical Architecture"
Date & Time: 13:00–15:00, Saturday, July 22
Lecturer: Professor Emeritus Fujimori Terunobu, The University of Tokyo
Guest: Ms. Hirai Yuka (fourth-generation descendent of Sone Tatsuzo)
Venue: Room 121, First School Building on Keio University Mita Campus
Admission: those interested should come directly to the venue. (Limited to the first 300 entrants)
ii) Mita Campus Architectural Tour (must reserve spot in advance)
Date & Time: 11:00–12:30, 14:00–15:30, Saturday, July 8
Location: Keio University Mita Campus Old University Library, Jukukan-kyoku (Keio Corporate Administration), First School Building, Public Speaking Hall (Mita Enzetsu-kan), and more
Reservations: Please apply to reserve a spot through the exhibition's homepage. (Both tours limited to 15 people)
Click here for the reservation form
iii) Gallery talk by exhibition organizer
Date & Time: 10:30 a.m. on July 18 (Tues.) and July 31 (Mon).
Venues: University Library (Old Building) Exhibition Room
How to attend: Available to the first 15 people who ask at the exhibition's reception counter.
Reception opens at 10:00 a.m. on eligible days.
5. Venue Access
Venue: Fukuzawa Yukichi Memorial Keio History Museum ("⑪" on the map provided below
     on the 2nd floor of the Old University Library)
Address: 2-15-45 Mita, Minato-ku, Tokyo, 108-8345
Access:
8-minute walk from Tamachi Station (JR Yamanote Line/JR Keihin-Tohoku Line)
7-minute walk from Mita Station (Toei Subway Asakusa Line/Mita Line)
8-minute walk from Akabanebashi Station (Toei Subway Oedo Line)